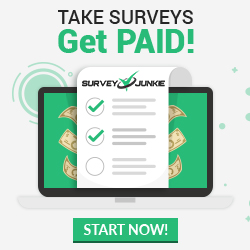 Survey Junkie – get paid to fill in surveys
Nowadays, people no longer depend solely on career jobs since they provide an income only enough to meet basic needs. To enjoy other beautiful things that life offers, you should make sure that you make extra money each day. If your income streams are diversified, you are at least assured that you will stop living from paycheck to paycheck.
Online surveys are a great way of earning extra money hassle-free. Other than benefiting consumers through incentives, online surveys form an integral part of market research for businesses. When compared with other methods of studying the market like snail mail surveys, online surveys are relatively cheaper and easier to do. In an online survey, survey questions are sent to members of a target sample who respond through social media, emails and websites.
Organizations have mainly used online surveys for new products or services, when they want to improve their current products or when the marketing strategies are no longer working and need to be changed. There are tons of online survey sites available but Survey Junkie stands out for its simplicity and legitimacy.
Survey Junkie background
Survey Junkie is an online survey site where you share your opinions, influence change and get paid. This site comprises of a massive online community of around 8 million users, analytics, social media and advertising partners to make sure that your voice as a consumer of a product is heard or that your product market is tested for digital advertisers. Survey Junkie, formed as a market research branch for its parent company DISQO, has been operating since 2012. The company was founded in Glendale, California. The company had other names like Blue Media Ventures and Active Measure.
Why Survey Junkie
Before we dive deep into the structure of Survey Junkie, it is wise to know whether the site is worth a try at all. As said above, testimonials given by people who have used this site have proved that the site is not a scam as it provides just what it promises and avoids too much noise like other online survey sites. Other than that, here are some other merits of Survey Junkie:
o Almost anyone can join the site
As long as you have a valid email address, you can join Survey Junkie and start earning. By allowing access by many regions in the world, Survey Junkie maintains their extensive user base and ensures that reliable target audience is available for timely responses on selected products and services.
o The rewards can be attained super easily.
Did you know that you can earn a point in Survey Junkie even if you do not qualify for a survey? It is due to such rare opportunities of earning that you cannot afford to miss joining this site. This strategy makes sure that all the site's users, including those that do not consume the product being marketed, are treated equitably. For companies, Survey Junkie helps them make sound decisions on the products or market strategies to switch to through timely responses.
o The customer support is very reliable.
Survey Junkie has its clients' interests at heart. Their customer support team is quick to respond to any questions regarding their products. If you are a beginner in the field of market research using an online survey, their customer support team, using a personal approach strategy, takes you through the whole process of testing your products through this powerful tool. A contact form is also available on the site's contact page that users can use if they have any urgent issues.
o A+ rating with Better Business Bureau
Blue Media ventures, one of the previous parent names, earned the trust of many users on attaining this kind of rating on BBB. Survey Junkie has surely held up to these standards as they have provided quality services all through to both businesses and consumers creating; a win-win situation. Part of remaining at its core of reputation is offering a very straightforward points system.
o Website design
Surveyjunkie.com is a very attractive and simplified website that you will love on your first glance. Essential features of the website are the join now, log in and help buttons. The site also includes on the homepage the reward and payment methods. At the bottom of the site's homepage is a section where you can click to view user testimonials, about and contact information.

How to join Survey Junkie
Setting up an account on this site is super easy and can take you less than 3 minutes. By clicking the join now button discussed above, the website asks you to fill in pieces of information starting with your email address. It is worth noting that the registration email cannot be changed later. Once the information is verified, a confirmation link is sent to the email provided that when clicked redirects you to your account. The new account also requires that you add two other emails, one for the e-gift card and the other for your PayPal account. You do not pay anything to join this site.
After creating your account, you will be required to put in your login credentials each time you want to access the account. If you forget your password when logging in, there is a retrieve section for you to reset your password. You type the email where the reset link is sent and expires after an hour.
The surveys
It is worth noting that you only get surveys if your profile matches the products and services being market tested. You should, therefore, make sure that you answer the questions about your profile right after you create your account. The time you take to complete each survey on your dashboard depends on the content and questions it covers. Longer surveys pay more points but take a longer time to complete.
To complete the surveys hassle-free, you must be proficient in reading and writing English. According to users' testimonials, the surveys available in Survey Junkie are fun and easy to complete. The site, however, advises that the questions on the surveys be answered honestly. This, in turn, makes sure that the insights provided by Survey Junkie to the owners of the products are correct.
Surveys on this site cover a wide variety of topics. From food, sports, home improvement to fashion and technology, there is definitely a topic for everybody. The most rewarding gift from these surveys is seeing your opinions changing products and services for the good. Buying the same goods that have been improved or introduced as a result of your views feels better than even the payment itself.
Checking your sign up email regularly is also advisable as it helps you know the available surveys, time to complete and the amount to earn. To make most of surveys in Survey Junkie, you need to visit their blog regularly. Here, you will find tips and innovations on how to make more money with this site. Lastly, you need to keep an eye on their social media accounts to make sure you have up to date information on how surveys are posted and completed.
Earning on Survey Junkie
The biggest question that particularly customers have about Survey Junkie is whether there is actually an income from the surveys.
Earning in Survey Junkie, as with many other online platforms, is through points. The points are redeemable to cash that can be deposited to payment platforms like PayPal or gift cards used to purchase goods. Many surveys usually pay 100-300 points. The conversion rate in this site is around $10 for 1000 points. As a welcome gift for new users in Survey Junkie, free points are offered at the initial stage of setting up the account. 25 points are awarded upon signing up and 50 on answering all the questions regarding your profile.
Completing paid surveys on this site should never be taken as the primary job. It is only a way of making extra cash and actually, this is only possible if you are consistent and committed. If several surveys are paying the same amount but taking different time, you should go for the shorter ones to maximize profits. Earning, however, depends on the survey opportunities you receive each day.

How to redeem the earnings
You can redeem the points from the navigation bar on the my points or from current points on the dashboard. The payment methods, as mentioned above, that are, in other words, what you can redeem your points in to, are cash and gift cards. An email is sent for you to confirm the method you selected to redeem your points. On validating the email, a congratulatory message pops up on your account indicating the payment has been sent out to your preferred method.
o Cash
The minimum amount of money that can be cashed out previously was $10. This minimum amount ensures that only serious people are on the site throughout. This money can only reach to you through a PayPal account. Some countries are nowadays allowed to withdraw at a minimum of $5 or 500 points.
o Gift cards
On hitting the $10 minimum cash, the points can after that be redeemed in increments of $5. These gift cards have no expiration date and are fee-free. The downside of the gift cards option is that it is only available for US users.
o Direct bank transfer
This is one of the newest methods of redeeming points introduced to Survey Junkie site. These bank transfers must be initiated by a third party and are also at the moment available in the US only.
Cons of Survey Junkie
o Limited surveys
Due to the vast user base, there may be limited surveys on the site for every person to complete and earn money. Before complaining about this, it is always wise to check if your profile is complete.
o The site only provides surveys.
Some users feel that Survey Junkie should add other products such as videos and product testing. This may not only provide more earnings to users but also makes sure that more businesses do extensive product testing.
o The payments vary
As said above, some surveys may be overpriced, while others may be underpriced. This affects users and especially beginners who have limited information about this aspect. This is despite that, understandable, as it solely depends on what the product owner is willing to pay for the surveys.
Additional tips when using Survey Junkie
o Have a separate email for your Survey Junkie account
Using your standard business or personal email as your Survey Junkie email means that you will have numerous emails sent to you every day. The possibility of missing a survey in such a scenario is very high. Since opening an email account is as easy as opening a Survey Junkie account, you should absolutely do that to keep your work organized.
o Take a survey at least once in a year.
Did you know that your points may expire after one year of inactivity in the account? To avoid this, you should make sure that you don't go for 12 months without opening and checking on your account.
o Use the referral program.
To earn more points on your Survey Junkie account, you should refer your friends through an invite link and ensure that they sign up. Since referral programs don't last forever, it is good to use such an opportunity when it is provided.
Final thought
While public opinion may not be the only tool used in product research and eventually marketing, it plays a significant role in showing how a product will perform before a company spends much money producing it. The informal and comfortable setting offered by sites like Survey Junkie makes earning possible when even watching Netflix or a movie preview.
Survey Junkie does not promise to make you rich but it will surely ensure that you have extra cash to go for a memorable vacation at least once in a year. If you don't have a primary job to do, you can give Survey Junkie a try and learn with time how to use this site.